About Us
Netphoria has been providing business-class web hosting services for companies such as Zimbrick, Gordon Flesch, and Trachte since 1994. Redundant 24 x 7 server monitoring and a multi-redundant network architecture permits operation without service degradation or interruption in the case of maintenance or equipment failure. Netphoria has maintained 99.9+% uptime since first offering hosting services in 1994.

If you require specific details of our SLA, please contact

24-Hour Technical Support Options
Most hosting plans include 24-hour technical support via 24HourWebHostingSupport.com that is available via these methods:

WebsiteOS – Your personal interface to manage your site
Each account comes with access to a web based control panel. This utility allows you to manage your account through your web browser. Once logged into the WebsiteOS, you will find many powerful tools to use for your domain name and hosting account. Each function of the WebsiteOS comes with its own detailed help menu. You can access help by clicking on the "?" located on the top right corner of each function.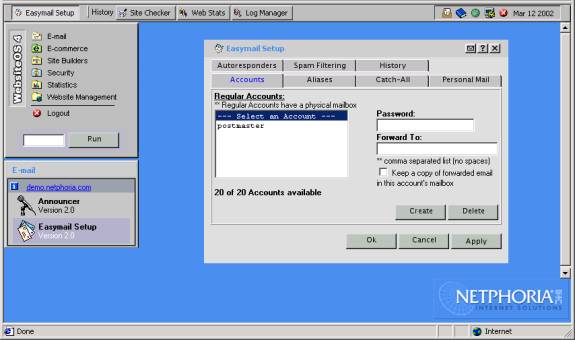 WebsiteOS allows you to:


Administer email accounts
Generate usage statistics
Set up a SSL certificate
Promote the website
Manage files on the server
Change passwords
Check disk usage and bandwidth
Manage server logs

Secure sections of the website
Configure and install common CGI scripts
Check the status of the web server
Forward domain and redirect email
Send announcements about sites
Enable ASP and ASP.NET
Create a basic multiple page professional looking website

Click here to review our Hosting Plans

Hosting | Domain Names | Support | About Us | Order Now




Microsoft, Access, SQL Server, Windows and the Windows logo are trademarks of Microsoft Corporation.
Netphoria and Sitephoria are trademarks of Netphoria, Inc.

Copyright © by Netphoria, Inc. All rights reserved.