Does your company have multiple locations, stores, dealers, or sales territories? If so, Locate!TM is the easiest way for your customers to find you. Locate!, by Netphoria, provides visitors to your World Wide Web site with a simple, user-friendly interface where they can retrieve a list of the stores, dealers, or sales contacts nearest to them. Visitors to your web site simply enter their phone number or zip code to conduct the search. Locate!ís interface is custom designed to fit into your existing web site.

Adding Locate! to your web site or corporate Intranet/Extranet will provide customers and prospects with a valuable tool that can increase sales and decrease admin-istrative costs for your company. Locate! will also benefit your dealers and distributors, giving them added exposure.

Locate! offers the following benefits: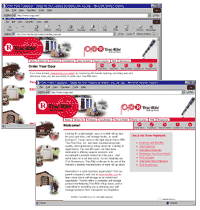 Easy setup - Locate! customers simply provide a list of their locations in a simple electronic format and Netphoria does the rest. We process the data, and then wrap Locate!ís powerful search interface around it, creating a custom interface and results page for each client.

Scalability - Locate! can accommodate small businesses with just a few stores or large corporations with thousands of locations. Locate! can also grow with your companyís needs as you expand.

Performance - Most search results take only a few seconds to process. Locate!ís robust record management can search through millions of records.

Maintainability - Locate!ís Management Interface provides clients administrative access to update their own data. Locate! clients can add, edit or remove locations from their master database. Not only does this eliminate the amount of time it takes to have a third party make these revisions, it also results in greater overall cost savings.

Hundreds of Uses - Locate! is adaptable to nearly any business: restaurants, banks, auto dealerships, retail, and even business to business marketing. Your imagination is the only limit!

Locate! is also available for standalone kiosks for retail, tourism, and trade show settings.



Call 888-450-0443 or email to order today!


Hosting | Domain Names | Products | Support | E-Commerce | News | About Us | FAQ | Order Now | Sitemap




Microsoft, Access, SQL Server, FrontPage, Windows and the Windows logo are trademarks of Microsoft Corporation.
ColdFusion is a trademark of Macromedia, Inc.
Netphoria and Sitephoria are trademarks of Netphoria, Inc.

Copyright © by Netphoria, Inc. All rights reserved.